"Together, we will fight to save American exceptionalism." Luisa del Rosal believes we need fresh conservative leadership to restore individual liberty, personal responsibility, and the rule of law as the pillars of American society. Our God-given freedoms and rule of law that define America—the very BORDERS that define America—are under attack.
The US border is under attack from the criminals and terrorists who surge across it every day—and it's also under attack from Democrats who threw it wide open. Their dangerous open border policies create chaos and devastate communities with lawlessness. The Democrat border crisis leaves hardworking American families behind and gives preference to criminals and drug cartels.
While Biden's open borders expose us to threats from abroad, Bidenomics eats away at America's entrepreneurial spirit from within. Families are hurting. The United States will spend over one trillion dollars per year just to service the debt on reckless spending. We're on a bad path to becoming a nation of bureaucrats, picking economic winners and losers for private gain. Luisa has seen this path before—south of our border. She knows where it ends: in the waste, despair, and poverty of socialism.
Luisa is dedicated to saving American exceptionalism because she has seen the alternative to a free and just society. Luisa grew up in Mexico, with metal bars on her windows, where there was no rule of law and where individual ambition and talent are not given free reign. Instead of resigning herself to not achieving her dreams, Luisa sought something more: the limitless opportunity of the United States of America.
That is why she came to Texas, legally, and followed the rules to become a United States citizen. Luisa enrolled at Southern Methodist University (SMU) where she earned dual bachelor's degrees and a Master's in Higher Education Policy and Leadership.
Now, Luisa del Rosal is an entrepreneur and small business owner. Having grown up in a country where big government stifles innovation at every turn, she understands how burdensome regulations, high taxes and runaway inflation hurt job creators and hardworking families.
Fed up with politics as usual, Luisa stepped up to run against a liberal Democrat for Texas House on a platform for better schools, safe streets, strong family values and more good-paying jobs. She served as the founding Executive Director of a group that helps elect conservative Republican Hispanics across Texas and served as Chief of Staff for a Republican U.S. Congressman to advance our shared conservative values.
Luisa is a committed Republican because her experience as an immigrant made her passionate about empowering people with freedom, opportunity and personal responsibility. She found those things in Texas.
Luisa will fight to secure our border and defend our second amendment rights to restore law and order in our neighborhoods. Luisa is focused on creating economic opportunity for all Americans by cutting taxes and slashing government spending to reduce inflation. Luisa has seen the rot spreading in our culture and will fight back against the radical left's assault on our family values. As a founding member of the Texas Latino-Jewish Leadership Council, Luisa is an ardent supporter of Israel.
Luisa lives in North Texas with her husband, Ricardo. She serves on several nonprofit boards, including as the Chair of the Board for Communities in Schools-Dallas Region and is a member of the SMU Catholic Campus Ministry. Luisa is active in the Texas Federation of Republican Women and was a contributing columnist to the Dallas Morning News, where she wrote in favor of conservative policies that will ensure American exceptionalism for future generations.
Luisa and Ricardo are members of St. Rita Catholic Community.
Experience Fighting for Free Enterprise and Religious Liberty
2018 40 under 40 Award – Dallas Business Journal

2017 Latino Business Up and Comer Award – D Magazine

2018 SMU Distinguished Hispanic Alumni Award

Stand with the Blue, Board Member

President of the 2017 Alumni Class of the American Swiss Foundation Young Leaders Program

2018 British Council Future Leaders Connect Delegate

American Council on Germany 2018 Young Leader

Founding Member of the Texas Latino-Jewish Leadership Council American Jewish Committee

Texas Federation of Republican Women, Member

Dallas County Young Republicans, Member

Preston West Republican Women, Club Member

Park Cities Republican Women, Club Member

Republican Candidate, Texas House

Chief of Staff to Republican Congressman

Coalition Por/For Texas, Founding Executive Director

Conservative Hispanas in Action, Vice-Chair

Conservative Columnist, Dallas Morning News

SMU Catholic Campus Ministry, Member

Communities in Schools – Dallas Region, Chair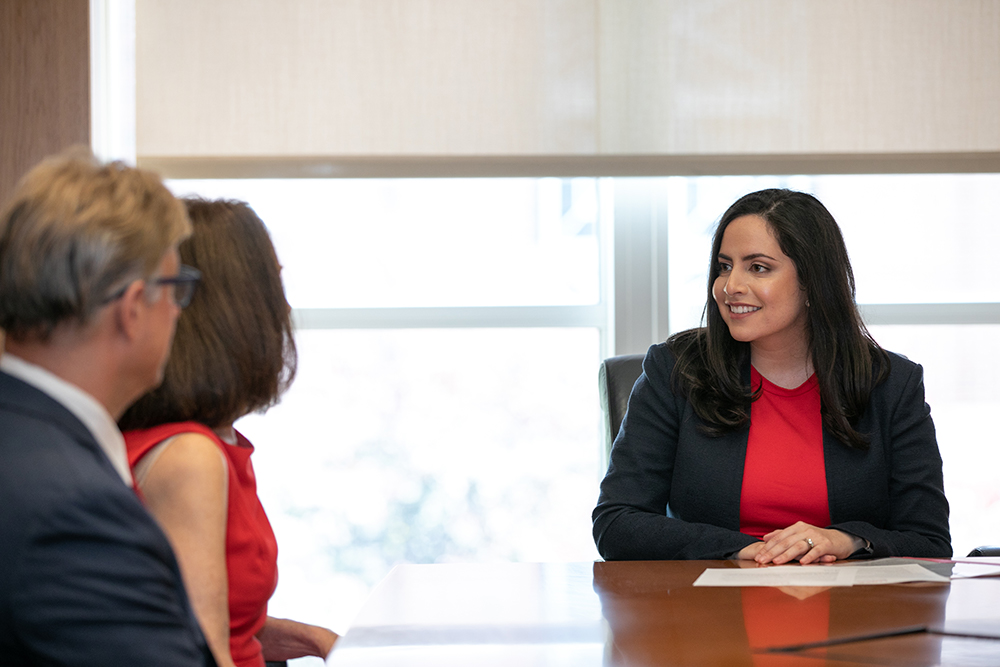 This campaign wouldn't be possible without a group of dedicated supporters like you. If you're ready to work for our community and want to join my team, fill out the form below to receive email invites or volunteer for the campaign. If you would like to request a yard sign, be sure to include your address and zip code.
Thank you for your support and I look forward to seeing you!
Thank you for wanting to be a part of this great campaign. Supporters like you help me deliver results for our community and ensure we have the right voice fighting for us! Thank you for your support and being part of my team!
Contributions to Luisa Del Rosal for Texas are not deductible as charitable contributions. Contributions from corporations, labor unions, federal contractors, and foreign nationals are prohibited. Federal law requires us to use our best efforts to collect and report the name, address, occupation, and employer of individuals whose total contributions exceed $200 in an election cycle. The maximum amount an individual may contribute is $3,300 per election. Your contribution (up to $3,300) will be designated for the primary election. The next $3,300 will be designated for the general election. Your contribution may not be reimbursed by another person or entity.
Paid for by Luisa for Texas