Luisa del Rosal believes we need strong Republican leadership to champion the kitchen-table issues that matter most to our neighbors. She will fight back against dangerous liberal policies that recklessly spend our tax dollars, leave our communities vulnerable to crime, indoctrinate our school children and allow illegal immigrants to flood across the border.
Luisa is dedicated to keeping Texas exceptional because she knows what we have here is special.  Growing up, Luisa saw the alternative to a free and fair society.
Born and raised in Mexico, Luisa always wanted to make a difference, but learned as a young girl that Mexico is a country where there was no rule of law and where individual ambition and talent are not given free reign. But instead of resigning herself to not achieving her dreams, Luisa sought something more. 
That is why she came to Texas and followed the rules to become a United States citizen. Luisa enrolled at Southern Methodist University (SMU) where she earned dual bachelor's degrees and a Master's in Higher Education Policy and Leadership.
Now, Luisa del Rosal is an entrepreneur and small business owner. Growing up in a country where big government stifles innovation at every turn, she understands how burdensome regulations, high taxes and frivolous lawsuits hurt job creators. 
Fed up with politics as usual, Luisa stepped up to fight for Texas exceptionalism. In 2020 she ran against a liberal Democrat for Texas House on a platform for better schools, safe streets, strong family values and more jobs. She served as the founding Executive Director of a group that helps elect conservative Republican Hispanics across Texas and served as Chief of Staff for a Republican U.S. Congressman to advance our shared conservative values. 
Luisa is a Republican because her experience as an immigrant made her passionate about empowering people with freedom, opportunity and personal responsibility. She found those things in Texas. 
Luisa grew up in Mexico with metal bars on her windows. She knows if we don't protect our citizens, we risk losing what makes Texas exceptional. Failed open border policies and radical efforts to defund the police put us all in danger. She will keep taxes low and regulations reasonable, so Texas remains the nation's leading job growth state. Luisa knows from experience that education is the great equalizer and our best economic development tool. Luisa will use her experience to ensure our children excel in the classroom and beyond and keep progressive indoctrination our of our classrooms. 
Luisa lives in North Texas with her husband Ricardo. She serves on several nonprofit boards, including as the Chair-elect of Communities in Schools-Dallas Region and as the Development Chair of SMU Catholic Campus Ministry. Luisa is a member of the Park Cities and Preston West Republican Women's Clubs and is a contributing columnist to the Dallas Morning News where she writes in favor of conservative policies that will keep Texas exceptional. Luisa and Ricardo are members of St. Rita Catholic Community.
Learn about my background
Endorse Luisa for HD 114 Today!
Secure the border to stop the flow of illegal drugs and human traffickers into our neighborhoods.
Fight for more local control of education to allow our teachers to innovate in the classroom and to engage and challenge our students because education is the great equalizer.
Defend the Second Amendment right of law-abiding citizens to protect themselves. As a young woman, I know that seconds count and sometimes you have to be your own first responder when threatened.
Keep taxes low, regulations reasonable and our legal system fair so that Texas remains the leading economic and job growth state in America.
Cut unnecessary regulations so businesses can create jobs and get Texans back to work as we recover from the pandemic.
Pass balanced budgets that cut wasteful spending.
Make healthcare more affordable, transparent and comprehensive for patients.
Growing up in Mexico, I saw firsthand the poverty and lack of opportunity caused by an intrusive government. I will make sure Texas leads the nation in job growth and opportunity.
Protecting the lives of the unborn.
Support our active military members and veterans who bravely serve our nation.
Support our brave police officers who keep our neighborhoods safe.
Experience Fighting for Free Enterprise and Religious Liberty
2018 40 under 40 Award – Dallas Business Journal

2017 Latino Business Up and Comer Award – D Magazine

2018 SMU Distinguished Hispanic Alumni Award

Stand with the Blue, Board Member

President of the 2017 Alumni Class of the American Swiss Foundation Young Leaders Program

2018 British Council Future Leaders Connect Delegate

American Council on Germany 2018 Young Leader

Founding Member of the Texas Latino-Jewish Leadership Council American Jewish Committee

Texas Federation of Republican Women, Member

Dallas County Young Republicans, Member

Preston West Republican Women, Club Member

Park Cities Republican Women, Club Member

Republican Candidate, Texas House

Chief of Staff to Republican Congressman

Coalition Por/For Texas, Founding Executive Director

Conservative Hispanas in Action, Vice-Chair

Conservative Columnist, Dallas Morning News

SMU Catholic Campus Ministry, Development Chair

Communities in Schools – Dallas Region, Chair-Elect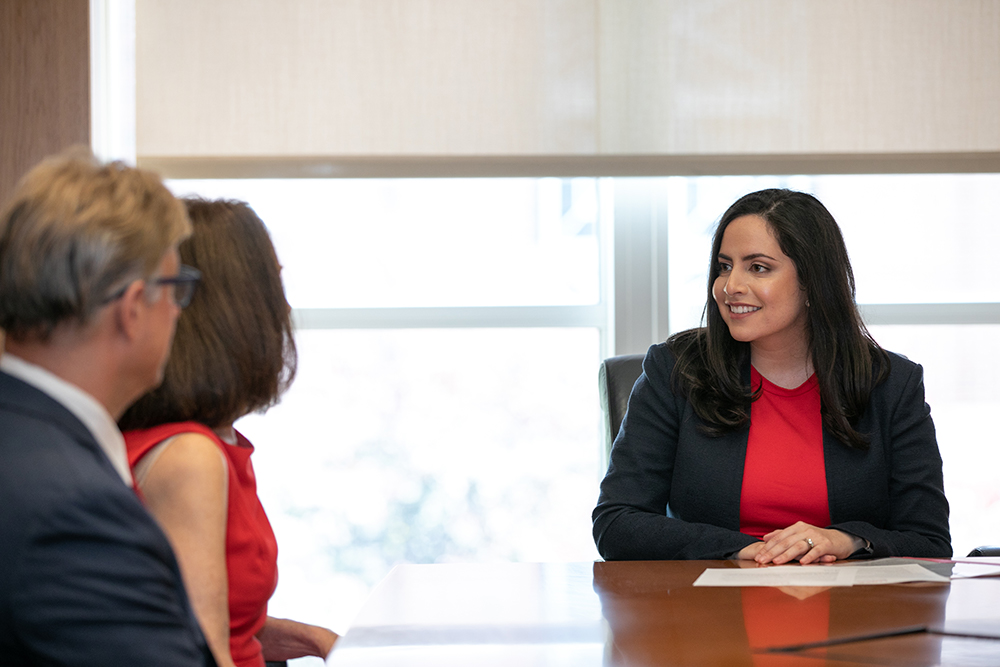 Dear Friends and Neighbors,
Texas is an exceptional place. We stand on principle, and we fight for what's right. They say "As goes Texas, so goes the nation." It's true, which is why we need to stand up for our values, now more than ever.
I am a young Hispanic woman and a first-generation American. It can come as a surprise to some that I am a Republican, but it shouldn't. My experience as a millennial Latina who immigrated to Texas has made me deeply passionate about furthering policies that empower individuals with freedom, opportunity and personal responsibility while ensuring our government fulfills its primary responsibility to keep us safe.
We must keep taxes low and regulations reasonable, so we can create jobs and provide for our families. We must prioritize education because it is the great equalizer and our best economic development tool. I care deeply about these values, and I know am not alone.
Young people don't want handouts. We want an opportunity to show the world what we're capable of achieving. We want a strong economy that provides good-paying jobs, so we can better our lives through hard work. We want low taxes, so we can keep more of what we earn and provide for our families without the government stepping in.
Women are heads of households, entrepreneurs, doctors, lawyers, engineers and CEOs. We know every penny counts and every decision matters. We want government out of the way so we can be empowered to decide what's best for our families and businesses. We want a strong education system that prepares our children for the jobs of the future.
The Hispanic community is diverse and dynamic. I immigrated to America, following the rules, for a better life where I have the opportunity to reach my full potential. That opportunity exists here, in Texas. There are countless more like me. We are business owners, employees, and hard workers that deeply believe in the power of individual responsibility and the strength that comes from valuing faith and family.
My name is Luisa del Rosal. I am a young Latina immigrant, and I humbly ask for your support. Together, we will keep Texas exceptional!
Respectfully,
Luisa del Rosal
This campaign wouldn't be possible without a group of dedicated supporters like you. If you're ready to work for our community and want to join my team, fill out the form below to receive email invites or volunteer for the campaign. If you would like to request a yard sign, be sure to include your address and zip code.
Thank you for your support and I look forward to seeing you!
Thank you for wanting to be a part of this great campaign. Supporters like you help me deliver results for our community and ensure we have the right voice fighting for us! Thank you for your support and being part of my team!
Under state law, individuals, partnerships, limited liability companies, and PACs may contribute to political campaigns. Contributions from corporations, labor organizations, or foreign nationals, who have not been granted permanent residence in the United States, are not acceptable. Contributions are not tax deductible for federal income tax purposes. State law requires us to use our best efforts to collect and report the full name and address, principal occupation or job title, and full name of employer of individuals whose contributions equal or exceed $500 in a reporting period.
Political advertising paid for by Luisa del Rosal Campaign, 11700 Preston Road Suite 660-425, Dallas, TX 75230